Click on an update below to read more.
Thu, Sep. 15th, 2022
Winter Bowl 2023 registration is now open!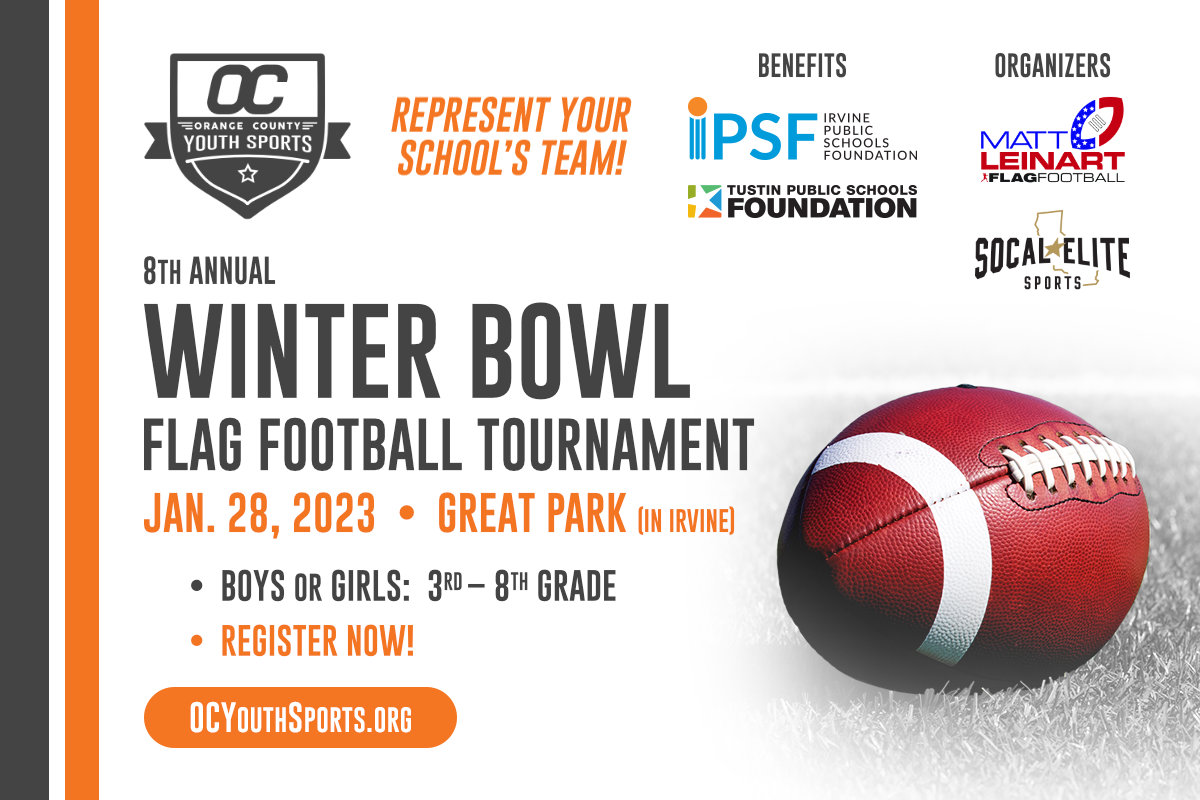 Winter Bowl is Saturday, Jan. 28th, 2023 at the Great Park in Irvine, CA.
Register for tryouts now: Learn More
Thu, Jan. 27th, 2022
Winter Bowl Schedule and Game Day Info
We are excited to announce that the schedule for the Winter Bowl on Jan 29th is now live! View here: https://ocyouthsports.org/tournament/winter-bowl/schedules
Important: Schedules are divided into a friendly game (game 1) in the "Schedule" section above the bracket. The second and additional games are single elimination bracket play with winners advancing. Please make sure to check the schedule as several teams have two (2) friendly games in divisions with an odd number of teams.
Please note that there are no schedule requests or changes.
Great Park Fields
Address: 6990 Marine Way, Irvine, CA 92618
Map of the OC Great Park
Each field has multiple smaller fields denoted with A, B, and C . Games will be played on fields 19–24 and the closest parking is Lot 4. Additional parking can also be found at Lot 3 and Lot 5.
Game Day Equipment: If your school has their own flags we strongly encourage them to use your own flags.
Mouthguards are required!

For those schools who are not using their own flags, flags can be found at each field.

Do not take your belts to the next field.
Game Day Shirts
OC Youth Sports Tournament of Champions Shirts: Your coordinator or coach should have your team's shirts for distribution on game day.
Away teams are required to bring their own t-shirts. Please be aware that all teams may end up as an away team at some point in the tournament. We suggest using your school's P.E. t-shirt or your school's color as your team shirt. Each team may choose its own color, but all players must wear that same color shirt. You do not need to notify us of your color.
Home – White ToC shirt
Away – Color team shirt (anything but white)
Thur, Jan. 20th, 2022
Winter Bowl Update 2
By now all teams have been built and fully rostered. You can find your team by logging in to TeamSnap. The code for the team is gender,grade,team number – School name – Coaches Last Name (B boys, G girls or C CoEd)
Ex: C73 – Rancho San Joquin – Hackett or CoEd 7th grade team
Please do not change the name of your teams

Any players that are still on School Name – Registered are not currently on a team.

If you are still on the School Name – Registered team and know you made your school team please reach out to your coordinator or coach to make sure they submit their team immediately as team registrations were supposed to be submitted by January 16th.

Players that are not placed on a team will receive a full refund after the event. We will go through each School Name – Registered team and issue a refund directly. We ask for your patience as our main priority is to focus on the event.

T-Shirts – We will reach out with an update regarding shirts closer to the event. Each team will receive an official white Tournament of Champions T-Shirt to be worn by the home team of each game.

Away teams are required to bring their own T-Shirts. We suggest using the school PE T-Shirt or school color as your team shirt. Each team may choose its own color if they would like but it must be the same for the entire team. You do not need to notify us of your color.

Home – White ToC Shirt
Away – Team's Shirt color (not white)

Schedule – Schedule details will come out closer to the event. There are no schedule requests. The structure of the tournament will be 1 friendly exhibition game followed by single elimination bracket play. For coaches with multiple teams we will try to ensure that games do not take place at the same time.
Tue, Jan. 11th, 2022
Welcome to Winter Bowl
Thank you for registering for the 2022 Winter Bowl!
By now all schools should have had or should be having tryouts this week. As a reminder, Team Submissions are Jan. 14th–16th.
If nobody has been communicating with your school please check your TeamSnap account for your team. Each player is automatically placed on a school team after registering (e.g.: all players from Alderwood are on team Alderwood – Registered).
At the bottom of each team is the non-player volunteers, which has the coordinators and coaches that have filled out the volunteer form on our website.
If your school does not have a coordinator and you would like to volunteer, please fill out this form: https://ocyouthsports.org/tournament/volunteer
We look forward to the first event of the 2022 Tournament of Champions.