Thur, May 5th, 2022
Harvest Cup – Opening Weekend

We are excited to take the field this weekend! The Harvest Cup will be taking place Saturday May 7th only between 9:00a and 4:30p.
Schedule: https://ocyouthsports.org/tournament/harvest-cup/schedules/

Although the schedule displays court 1, 2 or 3 they indicate the field number. Fields will be clearly labeled with a sign on the goal. Schedules read as Away (top team) at Home (bottom team)
Location: Irvine Great Park North Lawn
Address:  8000 Great Park Blvd, Irvine, CA 92618
Suggested Parking: Lot 3 or Lot 1
OC Youth Sports Tournament of Champions Shirts: Your coordinator or coach should have your team's shirts for distribution. Away teams are required to bring their own t-shirts. Please be aware that all teams may end up as an away team at some point in the tournament. We suggest using your school's P.E. t-shirt or your school's color as your team shirt. Each team may choose its own color, but all players must wear that same color shirt. You do not need to notify us of your color.
Home – White ToC shirt
Away – Color team shirt (anything but white)
Harvest Cup Rules: https://ocyouthsports.org/tournament/harvest-cup/7v7-rules/
Tournament Format: Each team has been placed in a bracket based on team submission order. Teams are still guaranteed 2 games and will simply determine which side of the bracket your team moves on to. This means all teams will still have 2 games guaranteed.
Refunds – Any players still on the School Name – Registered team will receive a full refund after the event. Our focus is on preparing for and running the event itself.
Mon, April 13th, 2022
Harvest Cup Registration Now Open (7th & 8th Grades)

Harvest Cup for 7th & 8th grade players only is May 6-7, 2022.
Register for tryouts now: View Here
Thur, April 7th, 2022
Harvest Cup Registration Now Open (7th & 8th Grades)

We are excited to announce that we will be able to host a limited version of the Harvest Cup this academic school year. We felt it was unfair that outgoing middle schoolers would not be able to represent their schools. Due to limited field availability we will be opening registration for Middle Schools Only.
Registration will be open by Monday April 11th
Event Details:
Date: Friday May 6th and Saturday May 7th
Game Format: 7v7
Limited Teams: Only 1 8th Boys team and 1 7th/8th Girls team
Team Size: Min 10 players (no exceptions)
We look forward to seeing you on the field.
🗓️  Thu, Sep. 15th, 2022
Harvest Cup 2022 registration now open!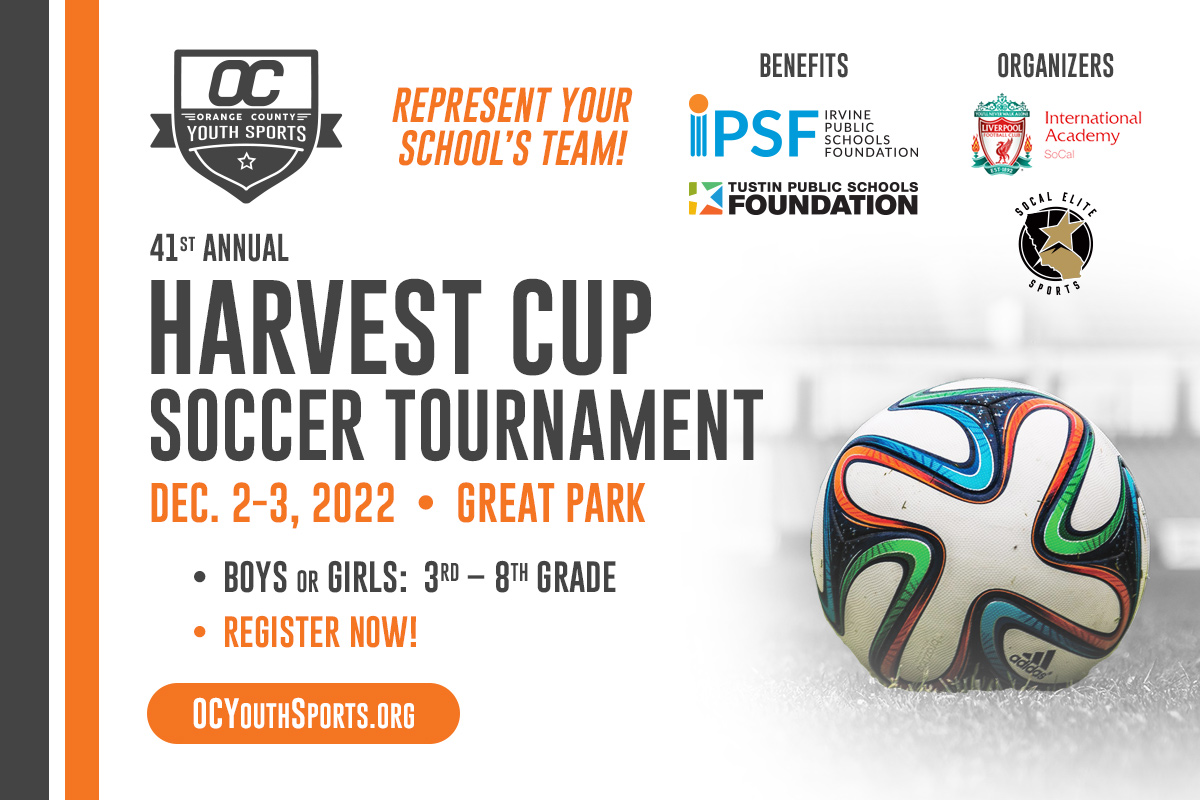 Harvest Cup is December 2nd-3rd, 2022 at the Great Park in Irvine, CA.
Register for tryouts now: Learn More